What can Freemore Slideshow Maker do?
Share life's moments through slideshow;
Create slideshow like a Pro from your photos and images;
Apply music & animated transition effects to slideshow;
Customize the output frame rate & size;
Support all key image formats;
100% FREE and Easy.
Freemore Slideshow Maker
makes it easy for users of any level to
make simple slideshows from your photos and images
,
accompany with music
and
animated transition effects
. The slideshow can then be played on your mobile devices, uploaded to video sharing website like YouTube, embedded in your website/blog/forum, burnt to DVD-Video...
Free Video DVD Burner Software to Create Movie DVD from Your Video Collections
Whether sending a digital greeting or printing a collage of your vacation, sharing life's moments is always a good choice. With charming, flexible designs of interface, adjustable details and pacing, and the option to add music, your photographs are woven together to tell a story in a slideshow generated by Freemore Slideshow Maker. It is fun to explore what you can do with your photos and images. The slideshow created can then be burned onto a CD-R, CD-RW, DVD-R or DVD-RW. It's quick, easy and addictive! And, when you send someone a slideshow made by yourself, it's a delightful spark of connection.
Expert reviews on FreeMoreSoft products
Find out what leading industry experts are saying about Freemore Slideshow Maker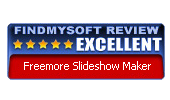 FindMySoft - Excellent

Just think about how much money one would save on a birthday party, where he can use Freemore Slideshow Maker to create a professional slideshow instead of paying someone else to do it.

SoftPedia - Editor's Pick

The excellent feature set and easy-to-use interface can help users create spectacular photo slideshows. You'll also appreciate the excellent input and output capabilities.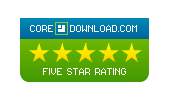 Core Download - Five Stars

If you want to play with some pictures and videos, or actually create something extraordinary for your friends, Freemore Slideshow Maker is a good choice as its ease of use for novices.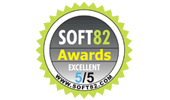 SOFT82 - Excellent

Freemore Slideshow Maker allows users to create slide-shows from a wide range of image formats. It can be either a showy presentation or a slide show of photos or, even, an advertising banner. A simply designed and efficient tool.

---
Read what our customers say about Freemore Slideshow Maker:
I love your Free Slideshow Maker! It weaves my photos and music into a fantastic movie like a magic. Hope more features will be added in the future.
Jules Tuttle - User Since 2012
All in all this is a great program tool for the newbie, myself included. You can put out quite a respectable project in a short amount of time.
Adolphus Wilkinson - User Since 2011
Free Slideshow Maker is the finest program to create easy slideshow video from images. Many features are not found in any other software. The option to create a single flash file does the job very well and better as most competitors. An excellent program.
Daniel Carson - User Since 2011
I must say if you are inexperienced in slideshow making, Free Slideshow Maker is probably the ideal choice. The interface is easy and the whole process just needs you to click.
Lloyd Welford - User Since 2009
---
What benefits can I expect?

Freemore Slideshow Maker is designed for easy slideshow making. All functions are learnable and usable for both casual users and professionals.
Create slideshow from family photos
Make slideshow from images
Share slideshow with friends
Apply transition effects
Add background music or narration
Customize frame rate
Adjust frame size
Supreme image quality
Support multiple formats
Burn generated slideshow to disc
Why should I choose Freemore Slideshow Maker?

You have many options to handle tons of images as there are so many slideshow maker software on the internet. Why should you use Freemore Slideshow Maker?
Humanization Design
Optimal output quality
Super-fast processing technology built-in
Presets with popular settings
Support tons of input/output formats
Cutting-edge encoding/decoding technology
Support multicore CPU
Less burden on your system
Abundant guide contents & online support
Free, safe & no restrictions
---
Freemore Slideshow Maker:

Follow the tutorials below to get your slideshow creating finished effortlessly, download our easy to read help manual.
Need help?

Any questions and suggestions about any one of our products, please visit our support site. You will also find access to product manuals and a frequently asked questions section.
---
What are the system requirements?
Minimum:
Intel Pentium 3 500MHz or equivalent processor
At least 256 MB RAM
200 MB free hard disk space
Graphics mode 800x600, 16-bit colour
Internet Explorer 6
Recommended:
Intel Pentium 4 1GHz or equivalent processor
512 MB RAM
Minimum 200 MB free hard disk space (since space is also needed to download drivers)
Graphics mode 1024x768 true color (highest 32-bit)
Internet Explorer 7